AIMPOINT
PROFESSIONAL
TRAINING
AIMPOINT
PROFESSIONAL
TRAINING
Aimpoint Professional Training takes great pride in approaching things differently. Every skill we teach represents a proven multi-tiered package. Our methods are rooted in human physiology, psychology, and real-world experience. This complete view provides every student an in-depth understanding of not only the skill set being presented but also the underlying reasons why that skill is necessary, and why it works.
"The Aimpoint Professional Training organization was formed to support our clients in the effective use of Aimpoint products. The core of the Aimpoint company culture is to design and produce the best sights available in the world. Our training division further extends this tradition of excellence by providing the best instruction available to everyone who depends on Aimpoint products."
- DUANE BUCKNER, DIRECTOR OF AIMPOINT PROFESSIONAL TRAINING
A SIMPLE RED DOT
Duane "Buck" Buckner describes the strength of the simple red dot in an Aimpoint sight.
CONFIRMATION VS. AIMING WITH A RED DOT
Duane "Buck" Buckner explains common mistakes of aiming with a red dot.
OPERATIONALLY PARALLAX FREE OPTICS
Duane "Buck" Buckner describes parallax and how Aimpoint red dot optics are "operationally" parallax free.
MAKING THE MOST OF YOUR TOOLS
Duane "Buck" Buckner discusses the advantages of using a red dot sight.
RED DOTS ARE EMPHATIC SIGNALS
Duane "Buck" Buckner explains the benefits of Aimpoint red dot sights being emphatic (rather than subtle) signals.
SHOOTING WITH AN OCCLUDED OPTIC
Duane "Buck" Buckner explains shooting with an occluded optic.
WHY A RED DOT
Duane "Buck" Buckner speaks to a few reasons why red dot sights aid your decision making.
---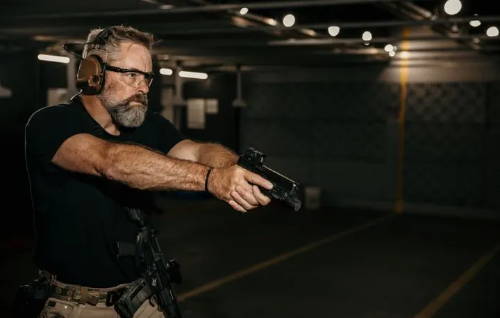 3 STEPS TO BECOMING THE SMARTEST PERSON IN THE ROOM
Volumes have been written about the skill associated with being a good trainer. We are awash in methods, approaches, and techniques to reach trainees. Good trainers pay attention and shape their approach to these empirical models.
But delivery is only half of the equation. There must be willing recipients on the other end.
So how do we do that? How do we get the most of our valuable training time and emerge improved or at the very least, edified?
SIMPLE SURVIVAL
When was the last time you paid attention to what was on your duty belt? Don't let this come as a shock…but you are carrying a lot of gear.
(Everyone wearing a badge just laughed or rolled their eyes, or both.)
The modern American LEO is awash in a sea of tools. Most of these are worn around their waist where they crowd each other for room. However, the most important "space" is the brain capacity associated with the use of each increasingly complex piece of tech. Each implement has its own set of limitations, instructions, maintenance, and suggested (or mandated) uses.
---
---
Contact Us
Send an email to ustraining@aimpoint.com and we will be happy to help.
---
Reach us by phone
---
Aimpoint Inc
Toll-free USA only: (877) 246-7646
Phone: (703) 263-9795
Hours of Operation:
Monday - Friday (9:00 am - 4:00 pm EST)
New orders received after 1:00 pm EST time will ship the next business day
Write us an email
---
Aimpoint Inc. Professional Training
Customer Service:
ustraining@aimpoint.com
Address:
7309 Gateway Court, Manassas, VA, 20109, USA
Reach us by phone
---
Aimpoint Inc
Toll-free USA only: (877) 246-7646
Phone: (703) 263-9795 - Option XXX
Hours of Operation:
Monday - Friday (9:00 am - 4:00 pm EST)
New orders received after 1:00 pm EST time will ship the next business day
Write us an email
---
Aimpoint Inc. Professional Training
Customer Service:ustraining@aimpoint.com

Address:
7309 Gateway Court, Manassas, VA, 20109, USA